Stay Away From Department Store Credit Cards
Published 10/29/07 (Modified 3/9/11)
By MoneyBlueBook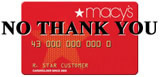 You know the routine. You walk up to the retail or department store checkout counter to pay for the stuff you're going to buy and the sales lady asks you if you'd like to receive 10-15% off your purchase today by applying for a department store credit card. Especially if you are buying a lot of things, it's always a big temptation at the checkout line, but signing for any store credit card like Macy's, Bloomingdales, or Home Depot just to get a one time discount may hurt you in the long run. You may save a few dollars now but it is likely to weaken your FICO credit score and be counter productive to any debt reduction plans you may have. They may be very easy to apply and qualify for, but they are nothing but debt traps, especially for college students looking to build credit.
It Will Ding Your Credit Score
Even if you intend to promptly pay off all balances, the mere act of applying for credit will hurt your FICO score because it is considered a hard pull credit inquiry. Although the hit is not significant, if you make it a bad habit of frequently applying for department or retail store credit cards to take advantage of one time discount offers, this could spell trouble. Every credit inquiry hurts your score so it is best to stay away from this temptation.
Department Store Credit Cards Have High Interest Rates
If You are trying to get out of debt or have been relatively debt free, you need to stay away from department store cards because they frequently have the highest interest rates. If you forget to make timely payment, your purchase discount savings could quickly be negated by high interest charges. Don't fall into the discount trap. Remember, the discount is usually only a one time deal and you'll be stuck with a worthless card afterwards. If you don't heed this warning and still apply for them, remember to pay them off in full each month. This should be a debt reduction priority.
They Can Only Be Used For That Store
Unlike regular credit cards like Visa or Mastercard, department store cards can only be used for that particular store. If you have a Macy's card, you can only use it at Macy's, thereby severely limiting its usefulness.
When I was in college I remember naively applying for a Structures credit card to get a one time clothing discount. I rarely shopped there and the company is not even around anymore. It's now a useless card with no purpose. Why clutter your life?