Sometimes Saving Money Isn't Worth The Extra Time and Effort
Published 12/13/07 (Modified 3/9/11)
By MoneyBlueBook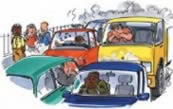 If you're a frugal person and like to live a thrifty lifestyle, then I'm sure you might have done this before. Have you ever found yourself driving long distances or straying off your usual travel path to visit a more distant store or gas station just so you could save a few extra bucks? Or how about this one - have you waited outside an electronics store or mall entrance for hours or even days for the opportunity to catch a special limited bargain?
I used to be an extreme bargain hunter but now I'm trying to be more sensible about it. Although I still like to save, I realize now that sometimes the extra savings doesn't justify the extra effort and mileage required. But old frugality and bargain hunting habits are sometimes hard to break.
My Feeble Attempts At Saving Money

Case in point - when first I moved to my current neighborhood, I continued to visit the former Shopper's Food Warehouse near my old place because I found it to be cheaper than the closer alternative at the nearby Giant Food store. But over time I realized that this back and forth trip was an absolute waste of time and didn't justify the measly few dollars and cents I saved in grocery costs. Although I saved money by traveling to a more distant store, I was wasting even more on time and gas money unnecessarily. Sometimes it's easy to lose sight of the overall financial savings picture.
This is also the same reason why I ultimately decided not to renew my Costco membership. Costco offers a lot of cheap and competitively priced merchandise at bulk prices with its famous return policy, but there's no warehouse location within a 20 mile radius of my new apartment. Having to drive so far just to save some money isn't worth it when it takes me almost 2 hours to fight my way through traffic congestion to get there, shop, and claw my way back.
Time Is Money and The Savings Doesn't Always Justify The Extra Effort Needed

Sometimes I think it's financially more efficient just to spend a little bit more money and shop at a closer, more convenient location. That's why I don't visit Walmart too often anymore either unless I happen to just pass by it. I much prefer shopping at Walmart than at other discount retailers like Target, but there simply aren't any locations in my area.
The reason why we put time and effort into our full time jobs is to allow us to earn money so we can properly allocate our limited resources. Both time and money are finite currency that should be used efficiently. Rather than wasting time and effort doing something unproductive, sometimes it's just better to outsource certain tasks or pay a little bit extra to avoid such inefficiency.
Waiting Hours Or Days In Line Doesn't Make Much Sense To Me Either

During Black Friday and last year's Playstation 3 and Xbox 360 release, many eager bargain hunters braved frigid weather and waited hours and days in line for the chance to obtain something special. But product supply was limited and despite waiting for hours and days, some still ended up going home without getting what they wanted.
Sometimes it just isn't worth the tremendous sacrifices. I would much rather find ways to make money or cut costs elsewhere to come up with the extra funds needed to buy the items. Waiting a few hours is one thing, but waiting 5 days straight outside a Best Buy store for the limited possibility of snagging a coveted video game system just seems like financial madness to me. Sometimes people really overdo this whole bargain hunting thing.
Has anyone done something like this before? Was it really worth it??