Online Shopping On Cyber Monday
Published 11/27/07 (Modified 3/9/11)
By MoneyBlueBook
Even though I'm not really a big time shopper, I seem to be writing a lot of a shopping related entries recently. I've been bitten by the holiday bug and now I have presents and dollar signs floating in my mind.
What Recession? Shoppers Are Still Out In Force
Although the economy is cooling due to mortgage problems and high oil prices, it seems like this year's Black Friday kickoff has gone quite well. Retailers are reporting much higher shopper turnout than years past and all that remains to be seen now is whether this red hot pace can be sustained. After stripping stores clean of all Black Friday sales items, shoppers are now turning to the internet to smoke out the remaining bargains - and there are lots of them. Many will turn to the internet now to shop online and take part in the Cyber Monday extravaganza. I generally do the bulk of my shopping on the web so I'll definitely be joining in on the online festivities. There are so many online deals going on right now!
I've Done Well Financially So I Plan to Share Some Wealth

Last year was hard because financially I was struggling big time. Credit cards kept me afloat and my job was in major transition. Although I'm still not precisely where I want to be financially, I'm in much better shape this year. I think I echo the same Black Friday consumer optimism that many have despite the nation's current economic condition. So I probably won't be cutting back too much on my holiday spending this year and will be looking to be more generous with my holiday budget. My investment portfolio has been hit very hard recently but I have been able to maintain an optimistic long term outlook and have faith that things will get brighter when the market rebounds in the coming months.
Frugality is a good mentality to have, but during the holidays I prefer to be more open with my wallet. After all, money is only a means to an end. I enjoy finding ways to make and save money, but what good is it if you never put it to good use? I'll have the rest of the year to live frugally and save but during the holiday season I prefer to be extra generous. Of course I'm still going to make sure I abide by my usual online shopping rules of looking for bargains, discount codes, and cash rebate opportunities.
Now I Have To Decide When To Shop and What To Buy
Like many people, I've been secretly doing some light holiday shopping at work this Cyber Monday morning. I've had to keep it somewhat discrete because I know my supervisors probably would prefer that we not do it during working hours but luckily I know they don't track our online usage. For everyone else, I'd recommend using discretion since many companies frequently track the sites that employees surf on. Big brother might be watching so be aware!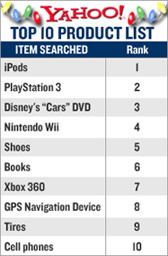 It's always interesting to see what everyone else is buying and what's hot this year. Take a look at the most popular product searches on Yahoo right now in the graphic I obtained from CNN on the left. It's not surprising to see popular gadgets like the Nintendo Wii, Apple iPods, and GPS navigations systems represented, but I was surprised to see tires listed as well. Can you imagine receiving a set of new tires for Christmas? Even for car fanatics, that must be a weird present to receive. Would you wrap and slap a bowtie on it to make it more presentable? Gee honey, thanks for the lovely romantic tires - it's what I've always wanted! :)