MySurvey - Pays You To Answer Surveys
Published 9/23/07 (Modified 3/22/11)
By MoneyBlueBook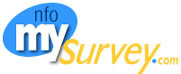 If you occasionally have free time to spare, then I recommend that you make some extra money on the side while you're at it. MySurvey is one of the online survey companies that has drawn positive reviews. Spam does not appear to be an issue and the surveys are well designed and easy to complete. Doing online paid surveys is not the most efficient use of time, but if you approach it like a hobby like I do, it's just a quick and easy way to make a small sum of money.
After completion of each survey, you receive reward points that can be later redeemed for prizes, merchandise, and even cash. You are also automatically entered into a cash sweepstakes after completion of each survey. The payouts for each completed survey averages from 10 points to 200. However, I have completed at least one offer worth 1000 points. If you decide to redeem your accumulated points for cash, 1000 points = $10.00.
If interested, you should sign up for several online paid survey companies to maximize your survey opportunities. I suggest expressing interest in many things during the initial profile setup to increase your chances of qualifying for more survey opportunities. The companies are not all the same. I personally prefer MySurvey more than some of the other companies like Greenfield Online because MySurvey doesn't trick you into completing a lengthy survey only to wait till the very end before informing you that you didn't qualify for the survey.
I've Earned More Points Than I Expected
I signed up with MySurvey a month ago back in August. So far I've racked up 2610 points by completing surveys during my free time. I've gotten very efficient in completing them. For a long one that should normally take 60 minutes to complete, it now only takes me 10-15 minutes. Not bad. I now have enough to redeem for $26.00 cash. Keep in mind that this is only for one survey company. I've also earned points through other companies as well.