Is it safe to bank with an iPhone?
By Clark Schultz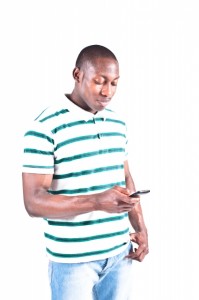 The Apple iPhone is the one of the world's biggest technology phenomena. Behind the popularity is a wide selection of unique mobile applications that can be easily downloaded. This includes banking applications that are about to take mobile banking to the next level.
Setting up mobile banking
Mobile banking has been around for close to 10 years. Up until this year, the most popular way to access banking information with a phone has been through using SMS text messages or mobile Internet browsers. Both methods have limitations and can be frustrating for users.
All of that looks set to change with the explosion of applications being developed for the iPhone by some of the best online banks. Banking applications allow a faster and more secure connection to a bank's server than if you use a mobile browser or SMS. Developers are continually adding more mobile banking features and security enhancements to banking apps.
If you have an iPhone, you can check the iTunes store or your bank's website for the most current mobile banking applications. Wells Fargo Bank, U.S. Bank, PNC Bank and USAA Federal Savings Bank are just a few of the financial institutions that have applications that can be downloaded for free. After your application is up and running, you can check balances, pay bills, transfer money, set up banking reminders and find the closest ATMs.
Securing your financial data
Accessing financial information through a phone inevitable brings up the question of whether it is safe to bank with an iPhone. The answer to that is that it depends largely on how you protect your information.
Using an application is safer than using the iPhone's Safari browser, but apps are not perfect. Earlier this year, tech experts uncovered that some mobile banking applications stored financial data locally on iPhones in an unsecure way that could be retrieved by hackers. Banks have now fixed this issue and will continue to issue software updates for their applications, but security is a two-way street. Here are a few things you can do to safely bank with your iPhone.
Protect your phone. If your phone is lost, your life can be an open book to anyone who finds the phone. This includes your banking data. The simplest way to protect your phone is with a password. If you find using a password is too cumbersome, you can also download an application that will wipe the data and applications stored on your phone when the app is activated by a text message. Remember, you should always contact your financial institution immediately if your phone is lost.
Check your connection. Public Wi-Fi takes encryption and security out of your control. It is convenient to use Wi-Fi at airports, Starbucks or the library, but to protect your finances, never use a banking application while you are connected by a public Wi-Fi signal.
Use discretion with applications. iPhone owners can be tempted by application download mania. This can be dangerous since malicious applications can override your iPhone's security settings or install malware. Keep your applications to a reasonable number and only from highly trusted sources, such as those obtained
Don't go phish. Don't respond to text messages or emails requesting your personal banking information.
iPhone banking: the next steps
Banking on an iPhone has only just begun. The number of banks offering applications is expected grow, as will the sophistication of the applications. iPhone owners will benefit because, by staying on top of their finances, they can save money.
The next wave of iPhone banking applications should add more advanced money management features. This includes making it easier to schedule and pay bills online, as well as ways to integrate that information into your iPhone calendar. Also look for applications that will allow you to find the best CD rates and best online savings accounts.
The future is bright for iPhone banking. It might be time to give it a try.
Clark Schultz is a writer who contributes articles on the topics of finance, the economy and savings for major financial sites. He resides in University City, Missouri with his wife and three young children.