Click, print and save: the e-coupon revolution
By Angela Spires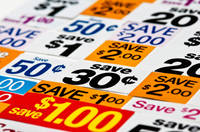 Join the "Extreme Couponing" TweetChat on Wed. Oct. 26 at 7 p.m. Eastern / 4 p.m. Pacific. Hosted by GetRichSlowly.org. #moolah
With tough economic times, the rise of the electronic coupon has now become viral and is spreading through the Internet at an unprecedented rate. According to eMarketer.com, 88.2 million U.S. consumers plan on using online coupons in 2011. From groceries to gifts to vacations, electronic coupons are just a click away to putting more money in your online savings account and more products in your hands.
My sister had always wanted flying lessons, which often run $200 to $300. Last year on Groupon I found a first flight lesson for $100, saving me $150 off the regular price and giving my sister a memory that she will have for life.
Today, having Internet access means having the ability to cut your grocery bills down, buy holiday gifts at half price, and save money on vacations for your family.
Groceries: staples for less
Your Sunday paper probably still has coupons in it, and for around $1.50 you can buy an issue and clip away. But sites like Coupons.com and For the Mommas offer many of the same deals and sometimes even freebies. Plus, you just click on the coupon, scroll through the pages of offers, and then print the ones you want. They also offer discounts on movies and other items.
If you are really savvy, check online sales ads for when items like toiletries, cleaning supplies, and paper towels go on sale, and use your coupon then to save even more. Once you make your grocery budget, every penny you save with coupons can help stretch that budget. Over time, those pennies will add up.
Holidays: less hassle, more savings
Sites such as Groupon, LivingSocial, and Jasmere offer daily discounts in specific geographic locations. You can check your location, or the location of someone you want to buy a gift for and receive 50 percent or more in savings. Some of Groupon deals even last for more than one day, giving you longer to decide. In addition, you can buy one for yourself and a limited number as gifts. So if your friends like the same things, you can buy them the same item at half the price.
Most of the deals do expire, so make sure to let the person know so they have plenty of time to use it. The sites offer deals on local dining, clothing, accessories, events, and even adventures such as bungee jumping and skydiving. They also offer online deals like canvas pictures and other online stores. If you would rather hand them a gift box than a coupon, just buy the coupon, and get the gift at half the price.
Groupon even offers an app for your phone to remind you of daily deals. Expiration dates vary depending on the store and product, so those must be checked, and limitations are listed online. But the limitations are often very few and the expiration dates are often a year from purchase, giving you plenty of time to buy that gift at half off or share the coupon as a gift.
Use a credit card that offers rewards points for all your holiday shopping and you can rack up the points and the savings all at once.Make a huge difference in your score by getting a free copy of credit report.
Vacation: more days for your dollars
Want to take a special trip for your anniversary? How about a family vacation that doesn't break the bank? Well, sites like Expedia and Orbitz have been helping save on vacations for years now. But LivingSocial and Groupon have just added vacations to their coupon deals.
For around $3,000, LivingSocial offers a round trip for two for six days/five nights on Cooks Island in New Zealand, including airfare, transportation to the hotel, hotel stay, some meals, daily breakfast, a 35-minute massage, and use of snorkeling equipment. Some of the deals are inclusive, while others offer discounts on hotel stays and add in other perks. This deal saves the couple 40 percent.
The vacation deals sometimes have limitations on when you can travel, but if you are flexible, you can save money and still have a wonderful trip. Whether it is somewhere you have never been, or somewhere you love to go, paying half price can make it fit nicely into your budget.
These are just a few of the hundreds of online coupon sites. So use these to help add funds to your savings, but make sure you have the best online savings account interest rates so your coupon savings are making the most money they can for you.
Electronic coupons are on the rise, so do your research, find the coupons you need, then click, print and save.