Chase Card Services offers tips to spring clean your finances
By Megg Mueller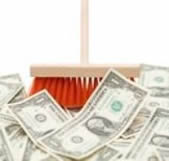 Whew, tax time is over for another year. But in the event you had a rough go of it this year, the fact that April is Financial Literacy Month might offer some comfort. There's no time like the present to get control of your finances. To that end, Chase Card Services has offered some tips to help you do a little financial spring cleaning:
Gather information. Take a look at your receipts and purchases from last year. Identifying where your money goes is the first step to having more in your pocket.
Make your budget. Once you've got good information on where your money is going, the next step is to make a budget, and of course, stick to it.
Make a plan to pay off debt. Wrestle those credit card debts to the ground once and for all. Chase offers its Blueprint service to help customers create plans on dealing with debt; check your credit card for similar programs.
Act like a Scout. Be prepared for unexpected expenses by building emergency savings. Make plans to pay off debt before you take out a loan or use a credit card.
Save money with credit card perks. If you're a small business owner, use a credit card that gives you advantages such as multiple reward points for purchases for your business. Chase's Ink cards come with Jot, a mobile and online app that lets you track business expenses. Having a separate credit card for personal and business expenses is also the best way to keep an eye on spending habits in both facets of your life.
Nobody loves spring cleaning, but taking an annual look at your finances is a great way to stay on top of poor spending habits before they get out of control. The best credit cards can help you monitor all your purchases and analyze where you can best make changes to save money.
Megg Mueller is a journalist with almost two decades of experience. She has worked as a reporter and editor for the Reno Gazette-Journal and as an editor of health care and education manuals for Aspen Publishers, a subsidiary of Wolters Kluwer. She wrote a weekly column on the hotel industry during her tenure as assistant travel editor for USA TODAY.com. Mueller is the editor of a tourism-based website and also serves as a reporter for a weekly business newspaper.