Published 1/4/11 (Modified 3/9/11)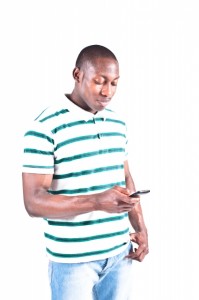 By Clark Schultz
The Apple iPhone is the one of the world's biggest technology phenomena. Behind the popularity is a wide selection of unique mobile applications that can be easily downloaded. This includes banking applications that are about to take mobile banking to the next level.
Setting up mobile banking
Mobile banking has been around for close to 10 years. Up until this year, the most popular way to access banking information with a phone has been through using SMS text messages or mobile Internet browsers. Both methods have limitations and can be frustrating for users.
All of that looks set to change with the explosion of applications being developed for the iPhone by some of the best online banks. Banking applications allow a faster and more secure connection to a bank's server than if you use a mobile browser or SMS. Developers are continually adding more mobile banking features and security enhancements to banking apps.
If you have an iPhone, you can check the iTunes store or your bank's website for the most current mobile banking applications. Wells Fargo Bank, U.S. Bank, PNC Bank and USAA Federal Savings Bank are just a few of the financial institutions that have applications that can be downloaded for free. After your application is up and running, you can check balances, pay bills, transfer money, set up banking reminders and find the closest ATMs.
Securing your financial data
Accessing
Read the full article »