Published 9/6/13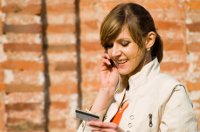 By Georgie Miller
When I was still a student, I was pretty much broke all the time. I didn't mind too much though. I knew that when I graduated and got a "real job," my money worries would be over. Right?
But even after I found a great job with a decent salary, I noticed something weird. At certain times of the month, my checking account was overflowing. There was a couple thousand dollars in there! Other times, I would have less than $100, prompting me to worry about what would happen if a check cleared my account a day earlier than I expected.
Feast or famine
Why was this happening? I had added up my monthly spending repeatedly and came out in the black. Then one day I was putting the due dates for my bills on my calendar, and I noticed something.
The first of my two student loan payments was deducted from my account on the 28th. The second was deducted on the first. My rent was also due on the first. And the credit card that I used for my monthly spending was due on the 29th.
In other words, more than 75 percent of my spending occurred during the same one-week period every month. No wonder I was broke around that time! If you are finding yourself in a monthly cycle of rich one minute, poor the next, here are some strategies to better manage your cash flow.
Read the full article »