Published 5/8/14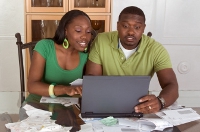 By Justin Boyle
With a lot of my friends getting married over the last year or so, I've heard all sorts of nightmare stories about planning and paying for weddings. The sheer fiscal magnitude of it all has made some of them wonder whether it isn't too late to elope.
With a little credit savvy though, juggling the big numbers on your wedding balance sheet can leave you with a boost to your credit score that may come in handy with your next mortgage lender (among other future creditors). Here are some guidelines for making your wedding spending work for you.
Free up some space
Although exact cost figures can vary widely from city to city, the average outlay for a wedding in the U.S. in 2014 was more than $28,600, according to WeddingStats.org.
Read the full article »