Published 9/3/14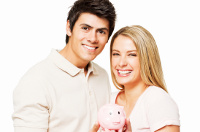 By Georgie Miller
Generally, the expectation when a couple says "I do" is that one of the first financial tasks they will handle is to switch to joint accounts. However, joint finances are not mandatory and may not work for everyone.
Here are some things married couples should keep in mind when considering maintaining separate finances.
1. Separate accounts foster a sense of autonomy
No matter how long you dated before tying the knot, going from an "I" to an official "we" can be overwhelming. Especially if one partner makes more than the other, merging accounts can make the lesser-earning spouse feel as if they don't have as much of a say when decisions need to be made. Additionally, when accounts are jointly held, it is easy for one partner to end up with all the responsibility of bill-paying -- whether they are interested in doing so or not.
Keeping accounts separate puts each spouse in charge of how the money they earn is spent.

Read the full article »