Published 5/7/14 (Modified 5/8/14)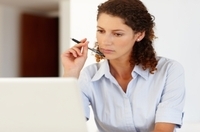 By Georgie Miller
So, your finances are a little tight this month. You're probably worried and wondering what to do. Perhaps you've investigated all of your last-ditch solutions for cash emergencies, but you're still going to come up short on an obligation or two. What happens next?
What happens to your credit score when you miss a payment
Payment history comprises 35 percent of your credit score, according to myFICO.com. This is the biggest single factor in your FICO score! The next most heavily weighted category is amounts owed, at 30 percent of your score.
Since payment history is such a significant component of your FICO score, missing payments can cause quite a dip in your rating. Fortunately, if the rest of your credit history is positive, then one or two missed payments shouldn't spell disaster.
Read the full article »