Published 6/2/14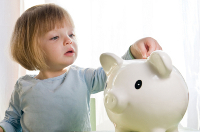 By Peter Andrew
You have a newborn baby! Congratulations. Welcome to years of sleep deprivation, decades of horrific expense and a lifetime of being petrified that something bad is going to happen to your impossibly precious offspring. Most parents envy their childless friends' clear, bag-free eyes, relative wealth and carefree existences. But almost none would swap places for the tiniest fraction of a millisecond.
Anyway, there you are, up to your ears in diapers and cooing relations, while the laundry piles up, the housework is forgotten and all you can think about is how much you need to sleep. What better time is there to ponder your baby's college fund?
Starting early pays
Unfortunately, there is no better time. A couple of years ago, The New York Times did some calculations and found that, assuming continuing inflation in college costs of just 4 percent a year, an institution that currently charges $60,000 a year could be charging more than double that by the time your baby gets to enroll. That's comes out at a cool half-million dollars for four years.
Read the full article »