Published 6/9/14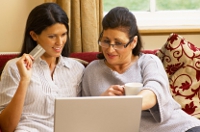 By Justin Boyle
I'll just come out and say it: I did not make smart financial decisions when I was 20 years old. The things I wanted were ill-considered and the things I bought were absurd.
But as time passed, I did eventually learn to look after my money. Household budgeting -- one of the most basic principles of money management -- turned out to be so helpful that I wished I'd figured out sooner how easy it was.
Here are a couple of the world's simplest ways to get a handle on your everyday spending, in case you or someone you know -- perhaps a new graduate? -- could use some help with this fundamental money skill.
Sort your spending
Studies have shown that the average American adult has three or four credit accounts open at any given time. If that sounds like you, there's a way you can sort out your monthly spending that might also help you get a little extra value out of all those credit cards.
Read the full article »