Is it safe to start spending again?
By Peter Andrew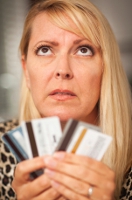 I've been writing about business and money for a depressingly high number of decades. But I only started to cover credit cards in 2008. Remember that year? It was when the impact of the credit crunch really began to hit. People were hurting, and suddenly debt that had previously seemed easily manageable took on scary proportions.
Often, my job was to howl at the injustices some credit card companies inflicted on their customers, to provide advice about strategies for paying down card debt quickly, and to warn readers about the horrors of unmanageable debt. I'm a cheerful sort of person, and all that doom and gloom didn't come naturally.
Everything's coming up roses
Then, on June 27, everything changed for me. An e-newsletter arrived in my Inbox from Comerica's chief economist Dr. Robert A. Dye.
"With four consecutive solid monthly gains in real disposable income, homeowners' equity rapidly accumulating, and the damage to households' 401(k)s largely repaired, consumer spending has ample support to resist the downdrag from still-tightening fiscal policy," its opening sentence read.
That wasn't the only good news I'd heard recently. Earlier in June, the Manpower Group published its quarterly Employment Outlook Survey. On the basis of data gathered from 18,000 employers across the United States, the report found that 22 percent planned to hire additional staff. That's a four-year high. Only 6 percent said they expected to shed headcount, leaving 70 percent who anticipated no change, and 2 percent who were unsure. Of course, there are regional variations in those national figures, but employers in all 50 states, plus D.C. and Puerto Rico, have hiring plans that are positive overall.
Yes, there's been good economic news over the past few years, but it's been a long time since I can remember seeing so much positive data (even the stock market's near record highs) all at once. No wonder The Conference Board's Consumer Confidence Index, published June 25, was at its highest level since January 2008.
Money's no longer too tight to mention
Many economists believe that this new buoyancy in our economy can only be sustained if consumers get back into the habit of spending more. And that's likely to mean we need to borrow more.
Key to that is lenders' willingness to extend credit, something that's on the rise. On June 25, Experian, one of the big-three credit bureaus, reported that credit card limits for prime and near-prime borrowers increased by about $11 billion in the first quarter of 2013. Linda Haran, director of product management and strategy for Experian Decision Analytics, commented in a statement: "We have always felt that near-prime consumers were ready to take on a little more debt than was being extended to them." All this means that people with some blots on their credit reports stand a better chance of being approved for new cards now than at any time for some years.
Safe to get back in the water?
So is it time for us to put behind us the lessons of the dark years, and once again sally forth into the nation's malls, brandishing our credit cards?
Well, maybe. But (and this could be just a five-year habit talking), I'd still recommend some caution. True, my gut feeling is that this nascent recovery is likely to continue, but that's all it is: a gut feeling. There are still doom-mongers within the community of economists (there must be a better collective noun for them: How about a séance or a delusion?), and, let's face it, nobody really knows what the future holds.
Certainly, much of the current good economic news can be traced back to the housing-market recovery. That looks pretty solid, but, as recently as May, Realtor magazine was warning that some threats still remain in housing. In particular, there's a good chance that mortgage rates could rise, possibly as high as 5 or 6 percent over the next two or three years, according to the article. That could price many potential home buyers out of the market, and cause recent sharp house-price rises to begin to plateau.
If you're reading this, you must be an intelligent adult, who's capable of assessing your own risk. But, if you want my advice, I'd suggest continuing to pay down card debt during the approaching good years, while at the same time building your credit score. Once you're free and clear, you can treat yourself a bit, keeping balances at a level you know you can manage whatever happens to the economy.
And then, by all means, make a bigger purchase or two, perhaps using zero percent credit card offers that allow you to buy things interest-free over a limited period. In the meantime, I'm going to enjoy writing more upbeat articles.
Peter Andrew has over 25 years of experience writing about marketing, advertising and management. He regularly covers consumer credit card topics for IndexCreditCards.com and other personal finance publications including Fox Business, TheStreet and MSN Money. He also writes frequently about mortgages and auto loans. Peter has spent extended periods living overseas, in the UK, France and Africa. He lives with his partner of 20+ years, and wastes too much of his time on cryptic crosswords.