Published 5/22/13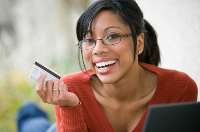 By Peter Andrew
I'm not what you'd call a natural entrepreneur. In fact, every venture I've ever tried to set up has turned to dust. But a few years ago, I inherited a small sum of money, and couldn't find anywhere to put it where it would earn a reasonable, relatively risk-free return. So I once again considered setting up my very own micro-enterprise: I planned to buy a cheap, run-down home, do it up, and then flip it before starting the process all over again.
A number of questions arose: Would my meager windfall be enough to fund such an operation? If not, where should I obtain working capital, especially as my bank and I are barely on speaking terms? Should I be ready to let credit cards take some of the strain?
Zero percent credit cards as seed capital
Given my track record, it's probably just as well I left the money in something my bank, without any trace of irony, calls a high-interest savings account. But should I have gathered some nerve and taken the plunge, having first applied for a clutch of zero percent credit cards? Maybe.
The idea of using the interest-free introductory period that many cards offer to fund a start-up business sounds attractive, and there are plenty of stories online about entrepreneurs who used plastic to get their companies off the ground.
Read the full article »