Published 7/11/13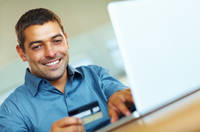 By Justin Boyle
I'm not sure exactly when the fever took hold, but more than a few people I know have made the decision to start businesses in the last year or so. Whether it's turning an old Airstream trailer into a food truck, founding a software startup or turning a love of vintage objects into a resale shop on eBay, entrepreneurialism seems to be happening all around me.
Some general themes emerge when my enterprising friends talk about their ventures. Cautious optimism is pretty common, as you might expect, and practically everyone sighs heavily over start-up costs and overhead. All those sighs set me to wondering: What's the best way to pay for it all?
People who applied for business credit cards before doing any hefty spending tend to swear by their method, but those who dove into using their own personal credit haven't reported a long list of regrets either. Is one way really better than the other?
Let's take a look at some of the factors.
Reasons to get a business credit card
One of the biggest headaches of sole proprietorship is the necessity to keep track of your business finances.
Read the full article »