Published 7/5/13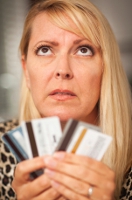 By Peter Andrew
I've been writing about business and money for a depressingly high number of decades. But I only started to cover credit cards in 2008. Remember that year? It was when the impact of the credit crunch really began to hit. People were hurting, and suddenly debt that had previously seemed easily manageable took on scary proportions.
Often, my job was to howl at the injustices some credit card companies inflicted on their customers, to provide advice about strategies for paying down card debt quickly, and to warn readers about the horrors of unmanageable debt. I'm a cheerful sort of person, and all that doom and gloom didn't come naturally.
Everything's coming up roses
Then, on June 27, everything changed for me. An e-newsletter arrived in my Inbox from Comerica's chief economist Dr. Robert A. Dye.
Read the full article »