Published 6/5/13 (Modified 9/22/14)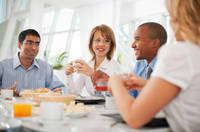 By Justin Boyle
Last weekend I got a text message from my mother. It included a photo of her smiling in front of a picture window overlooking the sea and text that read, "Brunch in San Diego, dinner at home in Phoenix. Not a bad life!"
My parents are making a pretty good go of the empty-nest lifestyle, taking an island vacation once every few years and occasionally traveling between their old stomping grounds in New York City and their new turf in the Valley of the Sun. But they're not usually the type to jet to the seaside for brunch on an ordinary Saturday, so I had to ask about this trip.
It turned out that it involved the pending expiration of points they'd earned through their credit cards with miles promotions. By keeping an eye on the fine print of their card agreements, they were simply making the most of what their travel rewards cards offer them.
Want to do the same this summer (and beyond)? Here are three tips for maximizing your travel rewards.
1. Target the right carrier

Not all airline rewards programs offer the same flight availability. Some carriers offer few seats to frequent flyers on their flights, but others are much more liberal.
Read the full article »