Published 8/11/11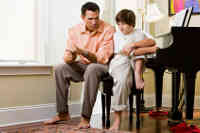 By Richard Barrington
Were you taught the facts of life by your parents, or did you have to pick them up here and there and by experience?
No, this isn't referring to those facts of life, but to some of the basic financial skills just about everyone needs as they go out into the world. Here are five financial facts you should make sure your children understand before you help them open their first bank accounts:
1. Smart shopping makes a huge difference in banking
Your children may think of smart shopping as a way to occasionally save a few dollars, but there is a whole new world waiting for them when it comes time to find a bank account. Because a bank account is there every day, either earning interest or incurring fees, the right choices add up to big bucks over the course of a year.
For example, many banks, led by some of the biggest names in the business, have been raising fees on checking accounts. At the same time, free checking does still exist at some banks. The difference between a $12 monthly fee and no fee comes to $144 a year--a huge chunk of what the typical student is likely to have in a checking account.
Similarly, shopping for a high interest savings account means making more money each and every day. "High interest savings account" might seem like a contradiction of terms these days, but everything is relative. With average savings account rates at 0.15 percent, a Read the full article »