Black Friday Is Back and Shoppers Are Going Bonkers
Published 11/20/07 (Modified 3/9/11)
By MoneyBlueBook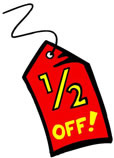 Well it's that time of the year again. The holiday shopping season is nearly upon us and consumers are starting to get all giddy like little schoolgirls. Although I try to keep my own giggling variation to a minimum, I must admit that I do get caught up the bargain hunting hoopla.
Black Friday Means Deals and Lots Of Them
For those of you who are not familiar with what it is, Black Friday is the crazy shopping frenzy that immediately follows Thanksgiving. It draws so much consumer and media attention because the day has traditionally signaled the start of the Christmas shopping season. It is called Black Friday because it always falls on a Friday and is the day when many retailers finally turn a profit - their balance sheets finally going into the black. Although Black Friday is not always the busiest shopping day of the year, many retailers frequently release their most lucrative deals and promotions on this day.
I Love The Hype and Excitement, But Participating Is Another Matter
I enjoy following the news and coverage that surrounds Black Friday events, but I've never actually gotten up early enough on Black Friday to take advantage of those one time a year deals. I think the closest I ever came to shopping on Black Friday was wakening up at noon on the day after Thanksgiving and strolling into a nearby Best Buy to see if there were any deals left. By then the store had already been picked clean by other crazy shoppers, leaving behind a bunch of weary eyed and exhausted sales staff.
If you want to take part in Black Friday and snag some really good deals, you must get to the store of your choice as soon as it opens for business the Friday after Thanksgiving. Competition among shoppers for the best early bird specials can be very cutthroat, so beware!
I'm Not Hardcore Enough To Compete With The Die Hard Bargain Hunters
The biggest problem with Black Friday is that only a select few will be able to take advantage of the lucrative sale promotions. The Black Friday sales that stores dangle are indeed very attractive, frequently offering more than half off the original retail price, but the promotional items are usually available in extremely limited quantity. I think most buyers think they will be one of the lucky ones to snag one of those coveted Black Friday deals, but believe me, there are many more other people who have the same determination in mind.
I've been trying to find and buy a cheap laptop for myself for a few months now. I did some research and discovered that Best Buy will be offering a brand new Sony laptop for only $399 as part of its Black Friday sale. But the fine print indicated that only 15 units were guaranteed to be at each store. Getting one is going to be very difficult.
As much as I'd love to get my hands on one of those laptops for a great Black Friday price, I'm not willing to stand in line for hours or even days before the sale just for the right to buy it. I'd be competing against the crazies who are willing to wait in line for hours. These are probably the same shoppers who were willing to wait in line for days, just for the right to buy prized gadgets like the Xbox 360 or Sony Playstation 3. I'm just not hardcore enough. I guess I'm a softy when it comes to shopping at brick and mortar stores. :(
I will probably visit a few places on Black Friday, but more likely than not I'm going to make most of my major purchases online, where I don't have to push over little kids and soccer moms to fight for the product I want. But if I really wanted to score that laptop from Best Buy I probably would need a better game plan. I'll need to bring along a few friends and my brother to help block and tackle other shoppers to prevent them from reaching the coveted merchandise before I can. Has this strategy actually worked for anyone else?