She spent what? How to have a Kardashian wedding on a realistic budget
By Tracy Clark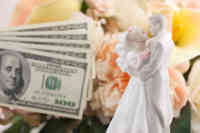 So, you're planning your wedding and are dazzled by the extravagant weddings of celebrities like Kim Kardashian but you don't have $10M dollars laying around in your checking account? The bubbly alone for Ashley Judd's big day cost as much as the average American wedding!
In an era when the rich and famous drop $80,500 on party favors (because yes, every guest at Nicole Kidman and Keith Urban's wedding deserved a $350 Tiffany clock, daaahling) it's easy to dream big. No worries though, you can make your wedding dreams come true without going broke.
Save on the wedding, plan for the future
Planning smart for a wedding is no different than looking for the best online savings account rates, the best money market accounts, or cd rates. If you do your homework, shop and compare, you will find that there are fantastic deals to be had.
Ask yourselves what you could do with the money by not overspending on your wedding. Your wedding is one day, one goal, in a lifetime of goals together. Your future may include buying a home, investments, children, and retirement.
Start your life together knowing that you are working toward those goals and not against them. You can have an elegant, stylish, and beautiful wedding without paying for that day for years to come. If you'd rather not mortgage your future on your wedding, check out the following tips for saving money on your big day.
6 ways to save
First, sit down with your fiance and prioritize. If each person voices what elements are most important then knowing where to cut corners will likely become that much easier. Factoring in these six tips can also help keep your wedding within your budget:
Guest list: Slashing your guest list will have a trickle down effect. Many costs (food, rentals, favors) are calculated by the number of guests. If you're willing to have a more intimate affair, you will save money and be able to spend more time with your guests.
Date and venue: Schedule in an off-peak time or have it on a day other than Saturday. Consider a lunch or brunch wedding or even a dessert buffet.
Dress: News flash, most wedding dresses are only worn once. That is great news for someone looking for a bargain. You can purchase gently-used dresses online and at consignement stores. Do you have a friend with an amazing dress you can borrow? There are also places that rent wedding dresses, or try designer sample sales.
Cake: Order a small decorative cake for cutting but have a sheet cake in the kitchen for serving.
Flowers: Simplicity saves money. Seasonal and local flowers and/or the use of just one type of flower can save on costs. Or, get creative by arranging lush bowls of fruit for guests to take home.
Calling all talents: Is someone you know a great photographer or gifted with making music playlists? Do you have a crafty friend who can help you make your own favors or arrangements? Likely, they'll appreciate the opportunity to share their talent as their wedding gift to you.
There are ways to save on your honeymoon too. Enlisting the help of a travel agent may help to keep you within your budget, and there are many travel agencies and sites that offer honeymoon registries. Just be sure you choose a site that takes no percentage of the gifts.
Another way to save on your honeymoon is to keep it short. An extra long weekend at a nearby romantic location can reduce stress since it means less travel, and less travel means lower travelling costs. Furthermore, if you take your honeymoon during an off-season, you may find extra savings.
Finally, brag! Tell reservation clerks it's your honeymoon. You will often recive upgrades or complimentary perks.