Are you suited to real estate investing?
By Peter Andrew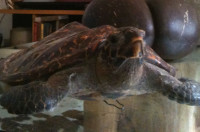 The last time I wrote about investing in real estate, I told you I was building up the courage to buy a nearby house to rent out to vacationers. Well, guess what? I didn't. I didn't buy it because I didn't build up the courage.
Every time I tried to picture happy families returning year after year to joyfully hand me a significant proportion of their disposable incomes, the only mental images I could actually conjure were of unpaid bills, foreclosure notices and someone changing the locks on my vacation home.
This glass-half-smashed-into-a-million-pieces mentality may well be the reason I'm not rich. You have to speculate to accumulate, and all investments involve some sort of risk. Turns out, I'm risk-averse, so the tiny puddle of money that might have been the down payment on my vacation rental remains in an online savings account.
Recognize your weaknesses
Actually, it may be less a question of risk-aversion than realism. In the late 1990s, my parents came to visit me in London where I was then living. We went to Columbia Road market one Sunday morning, which combined flowers and plants with exotic foods and antiques.
My mom and dad strolled with me down the center of the road as my partner raced around the stalls, buying armfuls of cut flowers, a triumph of 19th-century taxidermy in the form of a turtle (see the photo on the right), miscellaneous bric-a-brac, and quantities of obscure Asian foodstuffs. Within 30 minutes, the bill was well over $350.
My father, ashen-faced, turned to me with a totally appalled look on his face: "Good grief," he said. "You're the financially responsible one in this relationship."
And he was right. In spite of my being the most financially incontinent person he'd ever met, my partner was way worse. And Dad was correct to be appalled. Today, to use a boxing metaphor familiar to Londoners, my partner and I have survived by "ducking and diving." We (we're still together) don't save enough during the good times in order to weather the bad.
Play to your strengths
So maybe I was right to think we'd be unable to maintain mortgage payments during hard times. But luckily, in every generation, there are many who have better financial skills and a more entrepreneurial spirit (or, at least, a more ruthless approach to relationships) than I. Otherwise, we'd all still be living in caves.
Are you one of them? Do you have the self-discipline to conserve your cash and assets for when you may need them? Do you have the courage (or luxury) to put your money into an asset that could possibly go down -- maybe significantly -- before it goes up?
If so, real estate might be exactly the right choice for you. But before you commit, recognize the up- and down-sides.
Know the tricks
There's a good chance the residential real estate market could provide handsome returns. True, the smart money got in soon after prices crashed: Wall Street investors have bought up about 150,000 single family homes nationwide at a cost of roughly $20 billion in recent years, according to Homes for All.
Their plan was to reap handsome returns from rental income while betting that the value of their new assets (the homes) would return to their pre-recession levels, and then keep climbing. In some local markets, that's already happened. In others, prices are more sluggish.
Here are some tips that might help your investment pay off:
Renting out homes is a business like any other, so treat it like one. Draw up a business plan, including your first three years' cash-flow projections. Be realistic about both your revenues and expenses.
Research and understand the local economy in which you plan to buy. If home prices aren't rising as much as elsewhere, ask yourself why. (The nationwide average was 8.8 percent growth between May 2013 and May 2014, according to the July edition of CoreLogic's MarketPulse) If it's because employers are shuttering their businesses or the population is aging or dwindling, then property values may never recover -- and finding tenants could become increasingly difficult.
Look for a good return on your investment. A recent New York Times feature quoted some experts who suggest an attractive level: Your monthly rental income should be at least 1 percent of the home's value. So if you pay $100,000 for a home, you should be able to rent it for $1,000 a month -- or $12,000 a year.
Don't expect all that lovely money to be yours. You're going to have to pay for routine repairs and maintenance. And there are likely to be months (maybe many) between one tenant moving out and the next moving in during which you earn nothing. You may also end up with deadbeat tenants who just don't pay -- and who could even wreck the place.
If you're going to need a mortgage, expect to make a 20 to 25 percent down payment. And remember, you're going to have to keep up payments even during those months when the home's empty, or you're low on cash owing to repairs.
Think carefully before delaying your investment. I know current mortgage rates are higher than they were for much of 2011 through 2013, but those were freakish lows. At the time of writing, a glance at Freddie Mac's rate archive shows today's 30-year fixed-rate mortgages as cheaper than at any time during the last 43 years -- except those 21 months during 2011-2013. Of course, nobody can be sure they won't dip again, but most expect the long-term trend to be upwards.
Your state or city may impose duties on you as a landlord. Make sure you know what these are, and factor any compliance costs into your cash-flow spreadsheets.
I envy you if you decide to go ahead. Somehow, I doubt my 19th-century turtle's going to appreciate as much as your investment might. Although if you want to make me an offer ...
Peter Andrew has over 25 years of experience writing about marketing, advertising and management. He regularly covers consumer credit card topics for IndexCreditCards.com and other personal finance publications including Fox Business, TheStreet and MSN Money. He also writes frequently about mortgages and auto loans. Peter has spent extended periods living overseas, in the UK, France and Africa. He lives with his partner of 20+ years, and wastes too much of his time on cryptic crosswords.