3 top lists of the 5 best online brokers
By Peter Andrew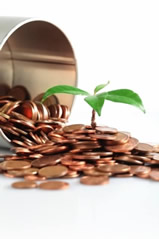 Broker ages

I have an uncle who's a multimillionaire. And he's always talking about the latest call he's received from his broker. When I was a kid, I somehow pictured the person who called him as a thin, elderly gentleman with parchment-thin skin, wearing a morning coat and wing collar, like one of those plutocrats that they used to feature in 1930s Hollywood movies.
But I was wrong. Even when I was a little boy, brokerages employed thrusting young people who were as far away from the top hat stereotype as you could get. And you can get a lot further now. Because today there are two sorts of brokerages: those that provide proactive, personal service and advice to high net worth individuals such as my uncle, and those that offer do-it-yourself online trading environments that are open to everyone.
Discount brokers
Traditional brokers call up clients with hot tips and recommendations that supposedly provide investors with an inside track. But that comes at an eye-watering price, and it's not at all clear that their record of spotting likely winners is as good as they sometimes claim.
Discount brokers often have the same information online that their traditional counterparts offer, but it's up to you to dig it out, and act upon it. The good news is that their fees are a tiny fraction of those changed in the high-end part of the brokerage market. So now the question is: which of the online discount brokers is best for you?
Discount brokers and lists
Back in March 2010, Barron's published its rankings of the best online brokers. Then, just two months later, SmartMoney published a very similar survey. But if you look at each publication's top five, there's not a single firm that appears in both. How can that be?
Well, they differed in their views of what makes the best online brokerage the best. So let's try to cut through all that, and come up with our own list. But, first, some basics.
Best online brokerages--but not necessarily for you

When Barron's was picking its 22 best online brokers, it used eight criteria:
Trade experience
Trading technology
Usability
Range of offerings
Research amenities
Portfolio analysis and report
Customer service and education
Costs
Together, these form a reasonable basis on which to make a judgement, but you probably don't need to worry about them all. A while back now, one of my colleagues wrote a piece on this site on this very topic (Review of the Best Online Discount Brokers), and very wisely pointed out that you can't choose your best online broker until you identify what you personally want from it.
For example, if you plan to trade only in stocks, you don't care about a company's range of offerings. If your investments are likely to remain few, you're less likely to worry about your broker's sophisticated portfolio analysis. And if you are only going to buy on the basis of your millionaire uncle's tips (okay, I'm projecting here), then why be concerned about a site's research facilities?
Best online brokerages getting better
If you're thinking of getting into online trading, now could be a great time to start investing. The last few years have seen discount brokers upping their games, particularly in the areas of customer service, research facilities and new technologies--including mobile trading platforms.
Most importantly, some of the best online brokers have also been slashing their prices. For instance, SmartMoney says that Charles Schwab cut its commissions by more than 30 percent between 2009 and 2010, while Fidelity's plummeted by up to 60 percent.
Best online brokers according to Barron's
Here's Barron's pick of the top-five best online brokerages. Bear in mind that these all scored extremely highly, so variations are often tiny, and criticisms sometimes close to nitpicking.
Thinkorswim. Great all-rounder, but particularly strong for trading technology, research amenities and the trading experience. Not so good for costs.
MB Trading. Gets the same star rating as thinkorswim; slightly worse in some respects, but better on costs and usability.
Interactive brokers. High scores in most areas, but let down by usability, and portfolio analysis and reporting.
TradeStation Securities. Respectable performance across the board, though a more limited range of offerings.
OptionsXpress. Some very high scores, but not great trading technology and more expensive than the others in the top five.
Best online brokers according to SmartMoney

The same caveat applies to SmartMoney's pick of the top-five best online brokerages as to the Barron's list. These are among the best of the best, so scores may vary very little.
Fidelity. Inexpensive, wide range of products, great tools and attractive banking services. Top scores in every area.
E-Trade. Higher commission than Fidelity, and slightly weaker in its research services and range of products.
TD Ameritrade. Same commission as E-Trade, and same top scores across the board as Fidelity, except in respect of banking services where it is weaker.
Charles Schwab. Lower commission than E-Trade and TD Ameritrade, but higher than Fidelity. Strong all-rounder, but let down by trading tools.
TradeKing. Very low commission (less than half that of E-Trade and TD Ameritrade), but fewer banking services, and less good product range and research than the others in this top-five.
Our own best online brokerages list
Okay, I promised you our own list of the best discount brokers. So here goes. It's been compiled by merging the SmartMoney and Barron's lists, and identifying the ones that stand out
Fidelity. Cheap and very, very good. The one to beat.

TradeKing. Great for budget-conscious users who don't need too many bells and whistles.

TD Ameritrade. May be perfect if you aren't interested in additional banking services.
E-Trade. An impressive all-rounder.
Charles Schwab. Could be the top pick if you don't need sophisticated trading tools.

Actually, I might just forward that list to my uncle. He could save a fortune in brokerage fees.
Peter Andrew has been writing about--and for--business for more than two decades. For the last couple of years, he has found himself increasingly specializing in the U.S. financial sector.