Published 10/13/11 (Modified 3/27/14)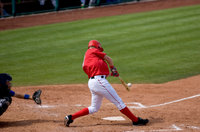 By Jeffrey Steele
World Series of Credit Cards - Game 2
Editor's Note: Thank you for your interest, these offers expired and are no longer available.
In the wake of the excitement and action that was Game 1, we welcome you back to the Money Blue Book World Series of Credit Cards.
This time, taking the field are two of the giants in the cash-back card league, and we have every reason to believe we're about to see a hard-fought battle. So stay tuned as we bring you perennial favorite Citi® Dividend Platinum Select® Visa® Card taking on a formidable challenger in the Blue Cash Everyday® Card from American Express in this battle of the cash back credit cards.
In this type of climactic battle, any number of key match-ups will be pivotal in deciding today's outcome. Let's lay out a few of those important match-ups, identifying where we can pick the possible victor in these head-to-head competitions for best cash back credit card.
Annual fee. Many rewards cards charge an annual membership fee. The Citi Dividend Platinum Select Visa Card steps up to the plate with an annual fee of…zero! Next up is Blue Cash Everyday Card from American Express. This card has a zero annual fee as well, and we have a tie game at the bottom of the first.
Read the full article »