Toys with hidden costs
By Joshua Wong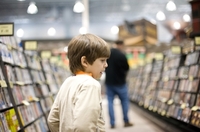 I bought my son a Leapster Explorer last Christmas (actually, Santa delivered it) and while the upfront cost was expected, the ancillary costs of this toy started to add up fast.
We bought two games to go with it from the start, but soon enough our son's interest in those waned, so we agreed to buy him two more. At $25 each, the hidden costs of owning a game system for my son's little hands were increasing. That's where we stopped, but there are many other toys with accessories that can get parents wishing that Santa had left the toy at the North Pole.
Not just batteries
Batteries are at the top of any list of hidden costs, although they shouldn't be too hidden when you buy the toy. Still, they're an ongoing cost, so we decided to go with the more expensive rechargeable batteries, which can cost about $30 with a charger. Other "extras" for the Leapster Explorer include a charging station for the handheld device ($40), carrying case ($15), and various bundles of games (up to $200) that cost less than buying them all individually.
One of the biggest drawbacks of any toy, however, is that the child will soon outgrow it. The Leapster Explorer, I soon discovered after the fact, is meant for children ages 4-7. Getting my son one when he was 6 didn't result in a toy he'd play with for years, and he's now asking for a Nintendo DS for Christmas. Fat chance.
3 popular toys with hidden costs
Here are some types of toys with hidden costs to be aware of before you pull out your credit card, or when your child sits on Santa's lap and tells him what he or she really wants for Christmas:
A world of their own. This can be anything from Barbie to Bakugan, where a world is developed around the toy and accessories help expand the play. Who wants to play with a Barbie doll by herself? She has to have other doll friends to play with, not to mention cars, houses, clothes and hair extensions.

Bakugan, a sphere that transforms into a creature, is another toy where having just one won't suffice. The accessories are numerous: a $19 glove to help spin the toy faster, a $10 rack to hold the toys (or go crazy with a $35 rack), or a $17 carrying case. The Bakugan toys themselves, which players roll against each other in "battle," are only $10, an enticing entry price to get parents thinking this isn't an expensive toy after all.

Updated games. This goes back to the Leapster Explorer and other electronic games, where it's important to remember that just like toys for adults (iPad, iPhone, Kindle, etc), there are new versions of games coming out all the time.

If having the latest game is important for your child, and you know they won't want to play with it when a newer version comes out (or will beg for the newer one), then you might want to avoid toys such as the Nintendo 3DS. A new version of the handheld gaming system hasn't been announced lately, but new games come out every month, meaning a hot, new game will likely come out that your kid will want much more than the "older" one he got a month ago.

Collectibles. These may not be right for every kid, since playing with them could ruin their value if your plan is to keep them in pristine condition and someday pay for your child's college education with them. But as with Barbie and other dolls, the accessories can add up fast. Some toys give a feeling of nostalgia even though they aren't old, and high demand can drive up prices.

Some "Toy Story" toys, such as the "Bullseye" horse that is already sold out at some places, are collected by adults who want to relive their childhood. Adding fun trinkets to your desk may make it a more fun place to work, but adding every toy character from the movie may cost a lot more than you bargained for.
Have you ever gotten your kid a toy that wound up costing a lot more than you originally thought? How do you save money on holiday shopping for kids?