3 ways to maximize your travel rewards this summer
By Justin Boyle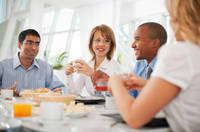 Last weekend I got a text message from my mother. It included a photo of her smiling in front of a picture window overlooking the sea and text that read, "Brunch in San Diego, dinner at home in Phoenix. Not a bad life!"
My parents are making a pretty good go of the empty-nest lifestyle, taking an island vacation once every few years and occasionally traveling between their old stomping grounds in New York City and their new turf in the Valley of the Sun. But they're not usually the type to jet to the seaside for brunch on an ordinary Saturday, so I had to ask about this trip.
It turned out that it involved the pending expiration of points they'd earned through their credit cards with miles promotions. By keeping an eye on the fine print of their card agreements, they were simply making the most of what their travel rewards cards offer them.
Want to do the same this summer (and beyond)? Here are three tips for maximizing your travel rewards.
1. Target the right carrier

Not all airline rewards programs offer the same flight availability. Some carriers offer few seats to frequent flyers on their flights, but others are much more liberal. Southwest, for instance, was the top-performing U.S. airline in a recent survey by Switchfly that measured seat availability for frequent-flyers. Every Southwest flight surveyed offered seats available in exchange for frequent flyer miles -- the only U.S. airline in the survey to do so.
Of course, there are a few things to consider beyond the airline itself. Travel rewards affiliates such as Star Alliance -- who partners stateside with United and US Airways -- can provide perks like priority check-in and advance boarding that can add a little something extra to your travel experience.
2. Don't settle for a lackluster travel card

With many cash-back credit cards paying 1 or 2 percent on all purchases, savvy travelers insist on getting more air mileage value than that from their travel cards. Weighing various travel cards against the market's best cash-back cards may require a little math, but remember that cash in your pocket is just as good (if not better) than mileage in your rewards account. So make sure you're getting something of value in choosing a card that only offers travel rewards.
Other options to consider, the Citi® Hilton HHonors™ Visa Signature® Card can help travelers who already have a good airline card but could use a little help finding a bed on the ground. With the Citi® Hilton HHonors™ Visa Signature® Card, for a limited time, you can earn 75,000 Hilton HHonors Bonus Points after making $2,000 in purchases within the first 3 months of account opening.* Earn 6 HHonors Bonus Points for each $1 spent at any participating hotel within the Hilton Portfolio.* In addition, you can earn 3 HHonors Bonus Points for each $1 spent on purchases at supermarkets, drugstores, and gas stations.* Plus, you can earn 2 HHonors Bonus Points for each $1 spent on all other purchases.* And as if that weren't enough, you can enjoy the benefits of HHonors Silver status as long as you are a card member.*
(* See the card offer for full terms and conditions.)
For travelers who want an airline credit card with no foreign transaction fee, there's the Barclaycard Arrival™ World Mastercard®, which offers a strong rewards profile of its own.
3. Watch for sign-up bonuses when choosing a new card
There are numerous travel rewards cards out there, and their issuers are always dreaming up new bonuses and other incentives to lure your business. If you catch them at the right time, you can score a big chunk of points or miles just for signing up. If the annual fee is low or zero, playing the system like this can net you hundreds in travel rewards for simply filling out an application.
One last note on these cards: It's important to watch the expiration dates on those rewards. People often let them pass when they're not paying attention. But if you keep an eye on your schedule, it might just be your moved-away, workaday child getting photo messages of your spontaneous day trips.
Justin Boyle is a freelance writer and journalist in Austin, Texas.