5 little-known credit card perks
By Tim Sullivan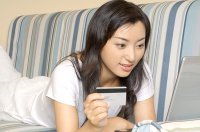 Last week, for no apparent reason, my phone became little more than an ornate paperweight. I took it to the repair guys and they told me that the phone was out of warranty, shrugged and quoted me the sky-high replacement cost.
Who came to the rescue? My credit card company.

Most of us know about credit card rewards, such as points for air travel, but almost every credit card comes with other lesser-known benefits, like the extended warranty coverage that prevented me from having to pop for a new phone. If you ever buy electronics or get on a plane, listen up: You may have benefits you didn't know existed if you pay with plastic. Here are some common ones I make sure to remember:
1. Extended warranty coverage
Many credit cards effectively extend the warranty on almost every purchase you make automatically. If I had purchased my phone with cash and not my credit card, I would have been in tears at the service counter. Instead, I used my friend's phone to call my credit card company, and a check for the original purchase price was in the mail the next day.
2. Trip cancellation insurance
A friend of mine bought a ticket to Istanbul last summer and then couldn't travel because she got very sick. The airline wanted to charge her almost the entire cost of the ticket to cancel it. She called her credit card company, who took care of her cancellation fee. Many cards will cover up to $1,000 annually.
3. Car rental insurance
Whenever I rent a car (usually with credit card points!), I hear the same spiel about how important it is for me to purchase additional insurance with the car rental company. I politely decline, as not only does my personal car insurance cover me, but my credit card backs me up an additional $75,000 for a flat fee of $19.95 per rental period, not per day. Check with your credit card company about what car rental protection they offer before you spend on extra insurance.
4. Concierge services
Access to credit card concierge services used to be the domain of elite card-holders, but this perk has appeared on more mid-level credit cards in recent years. Concierges can sometimes help when you've seemingly run out of options. My friend relies on them heavily, and whether it be for last-minute flights or sold-out concerts, her credit card seems to make magic happen.

5. Tracking spending
Some credit cards can make it easier than ever to track your spending. Cards such as the Chase Freedom offer free online tools that allow you to track your spending trends, making it easier to analyze your habits at a glance. Looking for areas to cut back? Check your breakdown to see where you're overspending.

To make sure your credit card doesn't offer any other hidden perks, check your card's website and your original agreement. And don't forget: If your smart-phone screen just went blank and it's been more than a year since you bought it, call your credit card company before whipping out your card for the replacement cost. You may be pleasantly surprised.
Tim Sullivan is a writer, translator, yoga teacher and massage therapist based in Seattle, Washington. He has lived and worked in Chicago, New York City, Paris and Madagascar with experience in finance, healthy living, fashion, and environmentalism.