6 steps to disputing a credit card charge
By Tim Sullivan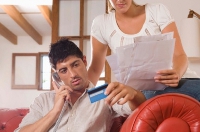 A few months ago, my fiancée and I went out to dinner at our favorite sushi restaurant. After we ate our fill of sashimi and warm saki, I paid our bill with my credit card and we made our way back home. The next month, while I was going through my credit card statement, I noticed that we had been double charged for our meal.
I called the restaurant and spoke to the night manager, but he wasn't much help. Finally, I got in contact with the owner who said that he was sorry for the inconvenience, but that he had no record of the double charge. He said he wouldn't issue a refund. I immediately contacted my credit card company.
Righting the wrong
Here's a list of steps to take when disputing any false charge on your monthly statement.
Contact the offender. First, call the restaurant or business responsible for the charge. State your claim and ask for a full refund.
Have your evidence. Save all receipts, emails and warranties. Get written confirmation of all promises, such as delivery dates.
Know the rules. The Fair Credit Billing Act allows consumers to dispute a credit card purchase or withhold payment for a card purchase -- but only under specific conditions. Refer back to the FCB website whenever you have a question.
File the dispute quickly and correctly. Make sure all your information is accurate and seek maximum protection. You can still file a dispute via snail mail if necessary, but if you are set up to handle your credit cards online, there are usually electronic inquiry forms that make the process easy. Also, be punctual with your claim. Make sure to file as soon as you discover the false charge.
Be prepared to arbitrate. Though most disputes are resolved before arbitration, some disputes end up being decided by the credit card companies themselves.
Look elsewhere. If your settlement or resolution was not what you desired, your fight doesn't have to be over yet. Contact your state Attorney General's office or the local Better Business Bureau.
In order to catch any false charge, make sure to check your monthly statements for accuracy. Compare your receipts with the listed amounts as you receive each statement. If keeping receipts for that long feels cumbersome, consider checking your account online after each purchase has posted.
It's easy to become upset when you notice a mistake on your credit card bill. But remaining calm and taking the proper steps is the best way to recover your funds. While contacting your card issuer to dispute a charge is no fun, it definitely beats paying twice for dinner.