High interest savings accounts are best found online
By Matt Riddle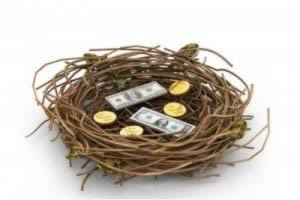 A year ago, my wife and I switched banks. She was pregnant with our first kid and, like many Americans, we were saving money however we could.
We had our accounts in two different banks -- both traditional national chains with thousands of branches in the country and sports stadiums named after them -- that offered savings accounts that were accumulating about 0.25 percent interest on a small sum. While we were mostly happy with our banks, our needs had changed, and we wanted better interest rates on our accounts. After fees, we realized that we weren't saving but losing money.
Employees at both banks essentially admitted they were giving us an inferior product. We sorted through what we thought were the best online banks as well as a few local ones and picked one that offered not only a high interest savings account but interest checking as well. After that, we couldn't switch banks fast enough. I wanted our money to go toward saving for our future, not domes for basketball games.
How to find the best savings account rates and what to look for
There is a growing trend among banks to offer better savings rates in non-traditional savings accounts. So if you're thinking about making a switch to capitalize on higher interest rates, keep these five things in mind while hunting for better savings.
1. Interest rate
Is the interest rate high enough to justify switching banks? It was for us. The Federal Reserve has slashed interest rates across the board and savings account rates have been highly affected. While most rates are low, the difference in accounts can be over a percent, making a big impact on your savings accounts rates.
According to Visual Economics, a financial ezine, the average interest rate on traditional savings accounts is 0.56 percent, while their online counterparts average 1.14 percent. Considering that the rate of inflation for this year so far is 0.81 percent, according to inflationdata.com, putting your money into a traditional savings account is a losing battle.
2. Minimum balance
Many banks require that you keep a minimum balance for a high interest savings account, and sometimes those minimums are high. On the flip side, banks often employ tiered interest rate payouts, so the more money you put into your account, the more likely it is that you'll get a better interest rate.
3. Accessibility
The big national banks have the convenience of being everywhere you are, but often have the lowest interest rates. Regional banks, which typically offer better rates, are just in your town or state. But what if the closest branch is an hour drive away? How does that help you? Many online banks and smaller banks are part of larger ATM networks, negating this potential inconvenience, with ATMs across the country that won't charge you a fee.
4. Online presence
Not all banks necessarily have a physical branch -- some banks are virtual banks with only an online presence. Most traditional banks have latched on to the online trend, and have created an online site, but they still have the overhead costs of running a physical business such as paying for office space and maintenance, so their online interest rates are typically lower than those of virtual banks.
In addition to better high yield savings accounts, another benefit of virtual banks is the convenience online banking has to offer. You can set up your bills to be paid automatically, balance your checkbook, check on payments, download bank statements, and do just about anything else you would normally do with your bank account.
5. Online security
According to the FDIC, online banking is as legitimate and safe as traditional banking. A little common sense can keep you and your money safe. Among other things, the FDIC suggests that you frequently check your bank and credit card balances, never give out your personal information like bank account numbers, social security numbers, etc., and use credit cards for online purchases because they generally offer more help in fighting fraud.
According to Reuters certified financial analyst Manisha Thakor, online banks have invested a great deal of money in security for web transactions. Banks are ready for anyone attempting fraud at your expense. "Online banking is like banking with Kevlar on," Thakor writes.
Keeping these few pointers in mind will help you get your savings oriented in the right direction.
Matt Riddle is a freelance writer based out of Reno, Nev. A journalism graduate from the University of Nevada, Reno, Riddle was a newspaper reporter and then an account coordinator for a political consultant in Reno where he worked for several successful campaigns. His interests are many, but CrossFit, rock climbing, reading and writing, skiing, snowboarding, fatherhood and acting round up the list.