3 tips for hassle-free couponing
By Georgie Miller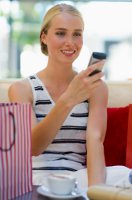 I used to think that couponing was complicated. Buy the newspaper, sort the coupons, keep a binder, maintain a calendar of expiration dates. Extreme couponing may be fun for some people, but I found it frustrating.
Additionally, while there are amazing deals out there, they weren't necessarily for the items I wanted or needed. Fortunately, there are lots of couponing options these days. Here's my quick and easy process for saving money at the grocery store.
1. Pick a store
The first step is to pick a grocery store. Yes, different stores have different deals, so it's hard to get the best deal on everything in one place. However, it takes time (and gas money) to drive all over town, and for what? Ten cents off eggs? No thanks. I like to keep all my monthly spending on one credit card, and all my grocery shopping in the same store.
In addition, if you shop at the same place all the time, you learn the layout of the store and can shop more quickly. You know which aisles are full of promotional or holiday items you can safely skip. You learn where the last-chance discount bin is. You get a feel for what things usually cost, so it gets easier to spot a good deal and stock up.
I picked the large chain grocery store half a mile from my house. Not only do I pass it on the way home, it's on my right-hand side. That means I don't even have to make a left across traffic. You may laugh, but when it's rush hour and I've had a long day at work, I want my shopping to be as quick and easy as possible.
2. Get the loyalty card
If you're like me, you probably have 10 loyalty membership tags on your key-chain. And yes, your loyalty tags will often save you money by getting you the "member price" on certain items throughout the store. But there's more to membership than that.
At my grocery store, the loyalty card tracks all the purchases I make. The store gets a "feel" for the type of items and the brands that I am likely to buy. Then once every month or two, they send me coupons that are tailored to me. I've scored free salad, free granola bars, free bottled water and more!
In addition to two or three free items, I'll also get coupons on items I buy regularly that are specific to me. These store coupons can usually be combined with manufacturer's coupons to save even more. The holy grail is combining a store loyalty coupon, a manufacturer's coupon and a sale. You can even pay for it with a credit card with grocery rewards. Cha-ching!
3. Really work those rewards!
Many people probably shop mainly at one store, using a loyalty card. However, the rewards really start to pay off once you create an online account to go with your membership. There are additional coupons available to every customer that can be downloaded straight to your account. Then when you swipe your loyalty card at checkout, the discounts are applied automatically.
In addition, I get an email notification of each week's circular. When I log in to my account, I can create a shopping list based on what's on sale. Then I can either email my list to myself or print it. If I forget my list, I can open my grocery store's app on my smartphone (most grocery stores have free WiFi these days) and see at a glance what coupons are loaded and waiting for use.
Do I save as much as those extreme couponers? No. But last night I saved $37. My final bill ended up being $119 instead of $156. A practically effort-free savings of over 20 percent? Yes, please!