Emerald PrePaid MasterCard: Enough perks to make it worth your while?
By Megg Mueller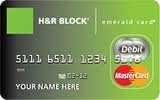 By now, the W-2s are in the mail and filing your 2011 taxes is imminent; some of us will get it over with as quickly as possible, while others will prefer to wait until the middle of April. Whichever way you file, one thing is true for pretty much everyone; we'd like to send Uncle Sam as little of our money as possible and if we're due a refund, we want it fast.
Since this blog isn't about accounting methods, I'll address the second desire, the fast refund. H&R Block, the venerable tax return people, are offering a fast refund for clients willing to sign up for its Emerald PrePaid MasterCard when you have your tax return prepared at an H&R Block office.
Here are the details from CardRatings.com:
"The H&R Block federal refund anticipation check is free through Feb. 4, 2012, and only if it is deposited to the Emerald Card. If it's paid by check, or if a state refund is involved, there's a fee. Tax preparation fees will be deducted from the refund anticipation check. According to H&R Block, the RAC is a deposit, not a loan."
If you've heard of this card in the past there are a few difference. As of 2011, the instant refunds that were once available ended; those funds were in fact a loan from the tax preparer's partner bank, HSBC, against an anticipated refund, according to ConsumerismCommentary.com. A federal regulatory agency banned HSBC from offering those loans, so H&R Block no longer gives instant refunds. Which is probably a good thing; those loans often had incredibly high interest rates on them. You got your refund super early, but then you had to pay the loan back sometimes with a rate as high as 36 percent.
So now if you get your refund applied to the Emerald Prepaid MasterCard, it'll take about a week to get the funds but there's nothing to pay back. Better deal, but as with most prepaid cards, there are some fees to consider. To access your money via ATM, it'll cost you $2.50. And that's if you use an AllPoint Network ATM; any other machine will cost more, from $1.50-$3 depending on the machine. Checking your balance through an ATM will cost $1, as will being denied any transaction. You pay to be rejected, basically.
Once your refund is gone, you'll need to add money to the card and that's going to cost you too, depending on how you fund it. You can choose a direct payroll deposit, which is free, or you can have checks or cash loaded onto the card through one of Emerald's partners such as Western Union, MoneyGram or Green Dot. Each of those businesses will charge you a fee, however, and those can be anywhere from $3.50 to $4.95. Those fees aren't from H&R Block so they have no control over them. Bottom line is, like other prepaid cards, you pay to access your money so you end up with less money.
If your credit is good, there's really no reason to go for a prepaid card. The Emerald card works best for people who have poor credit who can't obtain a traditional card, or for those who want their IRS refunds as quickly as possible. Until the Feb. 4 deadline, you can have your tax refund prepared and pay nothing at the time of service, but even that perk is a little misleading; you'll pay for their services when you get the refund in the form of a debit. So all in all, what you get with this card is a little bit of an expedited refund but it comes with a price. Only you can decide if it's worth it.
Megg Mueller is a journalist with almost two decades of experience. She has worked as a reporter and editor for the Reno Gazette-Journal and as an editor of health care and education manuals for Aspen Publishers, a subsidiary of Wolters Kluwer. She wrote a weekly column on the hotel industry during her tenure as assistant travel editor for USA TODAY.com. Mueller is the editor of a tourism-based website and also serves as a reporter for a weekly business newspaper.