Eenie meenie miney...Whoa! Too many credit card offers
By Megg Mueller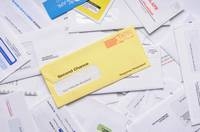 While it might appear obvious, one of the things I do for a living is research and write about credit cards. And yet, I've been sitting here with a credit card offer in my hands for about 10 days now, and I'm no closer to deciding if I should accept it than I was when I ripped open the envelope.
The offer is to upgrade my Bank of America Platinum Plus Visa, a card I have never used nor do I recall asking for, but got when I opened other B of A accounts. So for about four years, I've had this card I've never used, and all of a sudden I am being offered a Bank of America Cash Rewards Signature Visa. But I don't know if I want it. I can't tell, and that's just sad.
I got four credit card offers in the mail last week, and two via email. TransUnion, the credit scoring agency, reported last week that the number of new cards issued in 2011 rose by 14 percent, according to a story by Eileen AJ Connelly of the Associated Press. Now call me crazy, but that might have something to do with the fact that the Boston Globe reported that 4 billion credit card offers were mailed out last year. The adage "if you throw enough stuff at the wall, something is bound to stick" springs to mind.
Anyway, when I wrote about this for CardRatings.com, the thinking at the time was that banks were loosening their policies toward people who didn't have such great credit. Improving economic conditions were another factor, the Boston Globe had reported. Chase and Citibank were the two institutions that had led the charge; their offers alone made up more than half the total number sent.
Guess who two of my offers were from? Citibank, for competing cards. One offered me 11.99 percent APR, the other somewhere between 12.99 percent and 19.99 percent. I got these in the same day, so color me confused as to why I would ever choose the higher interest card. The only perk of the card, far as I can tell, was the concierge service that could help me get tickets and make dinner reservations. I think I can do that for 8 percent lower interest, thanks. So that's pretty obvious.
But you know what I'd really like, besides less spam and world peace? The simplified credit card form promised by the U.S. Consumer Financial Protection Board last December.
Bloomberg News had a story in December about how the CFPB had announced it was creating an easy-to-understand two-page prototype credit card agreement that would help consumers weigh the risks and benefits of credit card offers. As we saunter into March, I haven't seen anything on this. The agency is still accepting comments on its proposed form at consumerfinance.gov. You can't read what other consumers have said about the proposed form, which looks pretty simple and might even get high school kids hip to what credit is really all about. I wish you could read the comments, because then you could see mine that said "In what decade might this form become mandatory? I would like to shop for a new rewards credit card before I retire."
Until the new form becomes reality and credit card issuers adopt it, you can search the CFPB's website for the credit card agreement of your particular card, or one you're considering. I found this helpful with my issue of too-many-credit-card-offers-at one-time problem because the fine print I received had things like "Upon approval of your account upgrade, you will receive an amendment that further describes your revolving line." Well again, call me crazy, but I'd love to know the facts BEFORE I sign on the dotted line.
Megg Mueller is a journalist with almost two decades of experience. She has worked as a reporter and editor for the Reno Gazette-Journal and as an editor of health care and education manuals for Aspen Publishers, a subsidiary of Wolters Kluwer. She wrote a weekly column on the hotel industry during her tenure as assistant travel editor for USA TODAY.com. Mueller is the editor of a tourism-based website and also serves as a reporter for a weekly business newspaper.