Credit cards: Are you a shopper or a saver?
By Megg Mueller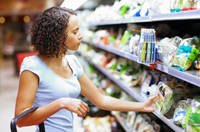 Standing in a long line at my local big-box book store recently, two thoughts went through my head: (a) I must be the only one who doesn't have an e-reader, and (b) there are two kinds of credit card users out there; those who have just one, and those who have multiple credit cards.
You could easily see who was who. The one-card shoppers carefully and slowly handed their cards to the cashiers; multiple-card users did a scan of all the cards in their wallets before choosing then quickly handing it over, as if to say, "Don't give me time to change my mind!" I'm thinking that this dichotomy between shoppers is the reason I've been seeing divergent reports on what's happening with the economy and our personal finance choices in general.
The latest studies to reveal our waffling behavior are The New York Federal Reserve Bank's quarterly report on household debt and credit, and the Black Friday shopping figures released by National Retail Federation (NRF).
Reporting on the third quarter of 2011, the New York Federal Reserve Bank revealed that outstanding consumer debt decreased 0.6 percent from its second-quarter level of $11.72 trillion. Some of that has to do with mortgage declines, but it also means we're being a little more careful about our spending habits and curtailing our debt. If you're like me, you're hoping the worst is over, but you're just not quite ready to go bananas at the mall.
But, according to the National Retail Federation's Black Friday revelations, I might be in the minority on that idea. Time Magazine reported the NRF's findings showed American's spent $52 billion on the annual shopping frenzy. Cool for stores, but hey wait … how are we paying for all that loot? Credit cards. The same Time story notes that the America's Research Group did a post-Black Friday survey of 1,000 shoppers and 27 percent of them said they'd be using credit cards to shop; last year only 16 percent were using plastic.
So we're being frugal, and we're spending more than last year. Like the conservative shopper with just one credit card, the idea of gorging on gifts is a little scary. In fact, 6 million credit card accounts were closed in the third quarter, according to the Reserve Bank's report. There are, however, still 383 million credit cards in use, and get this: credit account inquiries in the last six months increased for the second quarter in a row. The inquiries are seen as an indicator of consumer credit demand which means we're applying for credit to buy things.
That fits with this other shopper, the one that juggles multiple cards. That side of us willing to gamble our credit on a super, one-day-only deal. But we still have to pay that money back, and that's where reports of spending and consumer confidence get a little sticky. The Reserve Bank, while noting the decrease in outstanding consumer credit, also reports that at the end of the third quarter, $1.2 trillion in consumer debt was delinquent, and $834 billion of that was seriously late, more than 90 days. We want our cake, and we want to eat it, too, it seems.
Saving 40 percent on the latest e-reader can feel like a really smart thing to do when you're standing in line, plastic in hand. But until some studies come out that reveal incomes are rising, housing prices have utterly stabilized and the recession is behind us, it's still a game of chance. Hopefully not, but reality says the next line you're standing in could be the unemployment line, so spend (and spend locally!) but also consider giving yourself the gift of a debt-free 2012.
Megg Mueller is a journalist with almost two decades of experience. She has worked as a reporter and editor for the Reno Gazette-Journal and as an editor of health care and education manuals for Aspen Publishers, a subsidiary of Wolters Kluwer. She wrote a weekly column on the hotel industry during her tenure as assistant travel editor for USA TODAY.com. Mueller is the editor of a tourism-based website and also serves as a reporter for a weekly business newspaper.