Checks in the mail: Why do credit card companies send you blank checks?
By Jennifer Rose Hale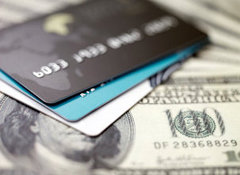 Every now and again you go to the mailbox only to discover that, indeed, "the check is in the mail": blank checks, ready for your signature. If you're like many consumers, you get two types. The first, for your bank's checking account, often features kittens, patriotic images or American landmarks.
The second? Those are a mysterious "gift" from a credit card company. You may receive them from a company you already do business with, or they may arrive, unsolicited, from a new bank.
Just what are those checks, and what can you do with them?
Credit card checks: better interest rates or fast cash
Checks from credit card companies can have two primary purposes:
Transferring a balance from one card to another. If you have a new card or you're trying to consolidate your cards to one with the best interest rate, you can use these checks to make the transaction. You simply write out the check to the old credit card company, and the balance of your old card is moved onto your new card.
Getting a cash advance. In a tight spot? You can take out a loan against the limit on your credit card. You don't need checks to get the advance--using your credit card as a debit card also does the trick. However, in some situations, writing a check may be more convenient.
Read the fine print
It's critical to know what you're in for whenever you're using a credit card: interest rates, payment terms and credit limits. Similarly, you'll need to do some extra homework before writing a check from a credit card company.
Companies may promise a low interest rate on transferred balances, but will raise those rates after a period of time or charge a fee for the transfer. Similarly, cash advances can come with high fees or interest rates. If you're a new cardholder, you may be at a particular disadvantage. With changes from the Credit CARD Act limiting the fees charged to existing customers, banks are finding creative ways to levy fees and high interest rates on new customers.
Credit card companies won't give up? Be firm
If a company is coming on strong with blank checks in the mail, playing hard to get--or better, impossible to get--may be your best strategy.
In a June 2010 report, "A Just Fee or Just a Fee?," the Center for Responsible Lending examined credit card late fees. One finding:
"Issuers that are aggressive in areas outside of pricing tended to charge higher late fees. For example, issuers that send out a lot of cash advance checks or are aggressive in recovering losses charge higher late fees."
It's wise to approach these offers cautiously and consider alternatives to cash advances. If you frequently find it hard to make ends meet, consider taking a second job, for example, or earning cash with a hobby. If you're not careful, this "gift" from a credit card company could cost you.