5 money moves to make during a divorce
By Holly Johnson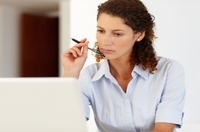 When I was 18, I married my high school sweetheart and moved 800 miles away from home. Shortly after that, I realized that I had made a terrible mistake. Fortunately, since we didn't have much, it was fairly easy to divide our assets and move on with our lives.
Still, I did learn a lot from the experience, and I managed to escape the situation without any financial impact or damage to my flawless credit report. How did I do it? For one thing, I hired an attorney who knew exactly what I needed to do and when. But I also picked up some other helpful tips along the way.
If you're in a marriage that isn't working out, you're probably wondering what steps you need to take to protect yourself financially. After all, if your marriage is like mine was, your finances have been intermingling for quite some time. You may have joint checking and savings accounts, joint credit cards, and, unfortunately, joint debts.
So, how should you separate your finances when you're getting a divorce? Consider starting with these five simple steps.
1. Educate yourself
Often, one spouse takes the lead in the family's financial matters. If that spouse isn't you, you'll need to educate yourself on your family's financial situation. Start by taking stock of all bank accounts, assets and debts. If your spouse isn't cooperating with your efforts, search your filing cabinet, joint tax returns and personal records to uncover the information that you need. You need to have a full understanding of your assets if you have any hope of getting your full share.
2. Hire an attorney
Once you've determined how much (or how little) you and your spouse have, consult with an attorney to ensure a fair and equitable distribution of those assets. Even if your divorce is amicable, having an attorney is a crucial part of the process. Why? Because a lawyer or attorney will advise you as you negotiate the distribution of your property in a way that is fair to all parties involved. Sure, you might be able to handle it yourself, but should you? My answer is no. Hire an attorney. And trust me, you'll be thankful later.
3. Close joint accounts
Generally speaking, debt acquired during a marriage gets split up between both spouses when they divorce. So, in order to protect yourself, it's important to close all joint accounts as soon as possible. Closing joint credit card accounts and any other lines of credit ensures that your spouse won't run up debts that you'll both get stuck paying off. Trust me, going through a divorce is hard enough without any additional drama. Save yourself some heartache and close those joint accounts as soon as possible.
4. Open an individual account
Even when you're married, you still have your own personal credit report and rating. However, when you get a divorce, you're back on your own. Therefore, you'll need your own checking and savings account as well as a credit card in your name only. Opening your own accounts will help you maintain your own personal credit rating. And, since you're beginning your new life as a single man or woman, you'll likely need it.
5. Ensure that you're insured
If you had health insurance through your spouse during your marriage, you'll need to get your own health insurance policy. Check with your own employer to see what's available. If you don't have any luck there, consider getting your own policy online or through a health insurance broker.
If you have life insurance, it's likely that your spouse is named as your beneficiary. Since you're getting a divorce, you'll probably want to change that ... and quick. That way, if you die, your spouse won't receive an unexpected windfall that you might like to leave to someone else.

Going through a divorce is rarely a pleasant experience. However, it is possible to emerge from the other side with your financial future intact. Doing some damage control ahead of time can save you from unnecessary conflict, worry and struggle. And, if you're like me, that's the best outcome that you could hope for.