Review: Citi Hilton HHonors Reserve Card
By Peter Andrew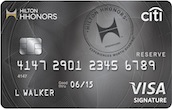 Do you remember that 2009 movie "Up in the Air"? It starred George Clooney and Vera Farmiga. Clooney's character Ryan Bingham was constantly flying from city to city -- and hotel and airline credit cards and loyalty programs were very important to him. You can imagine why. When you're traveling that much, every little perk and privilege that smooths your way through an airport or makes your stay more comfortable is truly valuable. And with that sort of lifestyle, the rewards can soon add up, too.
So what would Bingham make of the Citi® Hilton HHonors Reserve Card?
Hotel credit cards: a competitive market
Bingham might find it attractive that as a cardholder, he'd be automatically enrolled with Gold status in the HHonors loyalty program. That brings: free room upgrades, if available; certain complimentary food and beverages; free wi-fi and access to executive lounges within the HHonors program; and free assistance through Visa Signature Concierge, a global service.
If Bingham spent $40,000 in a year on eligible purchases using the card, he'd be elevated to Diamond status within the loyalty program, and could receive even more tempting freebies.
Rewards for HHotel stays
Even experts struggle to compare different travel rewards programs. One that offers one, two or three points for each dollar spent can look slim when compared with another -- like this one -- that offers up to 10 per buck. But, of course, when you come to redeem points in one program, they may not be worth the same as those in another. And, with so many redemption options and promotions, it's close to impossible to identify a definitive "exchange rate."
In any event, the Citi Hilton HHonors Reserve Card's program looks pretty good. In fact, one of my more credible fellow credit card bloggers (and many of them are far from credible) called it "awesome." Here are the deal's notable features: Earn ten HHonors Bonus Points per dollar spent on hotel stays within the "Hilton HHonors portfolio"* as the company's website puts it. Earn five HHonors Bonus Points per dollar spent on airline and car rental purchases* . Earn three HHonors Bonus Points per dollar spent on all other eligible purchases* 
Free nights
Right now, there's a sign-up bonus of two certificates, each of which entitles you to a single weekend night's stay (double occupancy, standard room) at a selected hotel or resort within the global Hilton HHonors portfolio. You have to charge $2,500 to the card during the first four months you have it to get those certificates.
Going international
As I recall, Ryan Bingham traveled pretty much exclusively within the U.S. If you spend a lot of time overseas, you may end up liking this card even more than he would. That's because:
This is one of those credit cards with no foreign transaction fees. And that can save you up to 3 percent on purchases made abroad compared with credit cards that do charge a fee.
This card comes with an EMV microprocessor chip. That can make it much easier to use in many overseas territories.
Should you apply?
Would I apply for a Citi Hilton HHonors Reserve Card? No -- but that's only because I rarely stay in hotels. If I had Ryan Bingham's lifestyle, however, I certainly would. And if your use of hotels falls on the continuum between his and mine, it may pay to consider adding one of these to your wallet.
Peter Andrew has over 25 years of experience writing about marketing, advertising and management. He regularly covers consumer credit card topics for IndexCreditCards.com and other personal finance publications including Fox Business, TheStreet and MSN Money. He also writes frequently about mortgages and auto loans. Peter has spent extended periods living overseas, in the UK, France and Africa. He lives with his partner of 20+ years, and wastes too much of his time on cryptic crosswords.