Banks are turning to you to help recover lost revenue
By Jim Sloan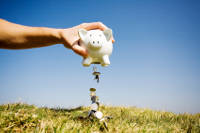 Banks used to make a lot of money off your mistakes--your overdrafts, your late fees and the penalties you paid for skipping a monthly credit card payment. But since Congress decided that many of those revenue-raising practices had to stop, the banks are back at your doorstep with a whole slew of new fees.
While the new charges might be less underhanded than the ones banned by Congress, they are just as annoying to consumers, and have sent many running from their brick-and-mortar banks to online savings banks.
But those of you staying with a traditional bank may find that the new fees being proposed require that you be more vigilant than ever to keep the banks from siphoning off your savings to help their bottom line.
Why banks need money
Banks have been stung in recent years by federal reforms that limit how they collect fees for overdrafts and credit cards.
According to the Cleveland Plain Dealer, banks used to collect $18 billion in overdraft charges, but are making half that since some reforms allow customers to opt out of overdraft protection. These losses are on top of the billions banks lost from credit card reforms passed in 2009 that limit what banks can change in interest, penalties and fees.
This summer, banks are bracing for another hit as the Federal Reserve considers limiting the "swipe fees" that banks charge merchants every time you buy something with your debit card. Banks are expected to lose up to $23 billion if swipe fees are capped by the Federal Reserve at just 12 cents per transaction--a 70 percent drop from the typical fee currently being charged.
The new fees banks are charging

While all these changes have been good news for consumers, banks have been quick to remind everyone that those charges helped pay for free checking accounts.
Banks say it costs them an estimated $300 to $350 a year per customer to provide the bank branches, ATM machines, fraud protection, account statements and tellers you need for your checking account. As a result, banks have rolled out a flurry of new charges to make up for their lost revenue and to prepare for further losses down the road. Among the new or proposed charges:
Monthly checking account fees
Higher ATM transaction fees
Fees for links between savings accounts, credit lines and checking accounts
Monthly fees for inactive accounts
Debit card fees or debit card limits
Fees for using a bank employee to do something you could have done online or at an ATM
Some of the new fees are remarkably creative. For instance, Bank of America mortgage customers who make their payment online from a checking account from another bank will pay $6. Some banks have started selling advertisements that will appear in the customers' online bank statements.
How to avoid the fees
Most banks that have started charging for checking accounts give customers a chance to avoid the fees:
Set up a direct deposit
Make a minimum number of debit transactions each month
Maintain a minimum balance
Banks can make money from checking accounts with an average of $2,000 because they can make money from lending that money out, so some banks are waiving monthly checking account fees if customers maintain a $5,000 balance in their linked accounts.
Finding free checking
A recent study by the U.S. Public Interest Research Group found that of more than 392 banks in 21 states, fewer than half are fully disclosing their fees to prospective customers. The good news is the study also found free checking is still widely available. Credit unions and small regional banks still offer it, as do better online banks.
The bottom line for consumers is this: Do your homework. Review your bank statements, ask questions, carefully read the letters sent out by your bank, and shop around for the best deal. There are ways to avoid the fees.
Jim Sloan is a freelance writer in Reno, Nev.