Published 10/26/12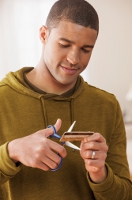 By Tim Sullivan
Thinking about closing a credit card account? Closing a credit card account can prevent you from using too much credit, reduce your risk of identity theft and make keeping track of your finances easier. However, it can also have a negative effect on your credit score.
Part of your credit score is based on how much of your credit you actually use. When you close an account, especially a larger account, your credit-utilization ratio (CUR) will be affected and your score could go down. In addition, if the card you're closing was the first credit card you ever got, it could shorten the length of your credit history, which can also hurt your score.
Too many cards
That said, tell me if this situation sounds familiar: You have to buy a dress or a suit for a friend's wedding. It's tough financially, but it's their wedding -- a once-in-a-lifetime occasion. You pick one out and when you get to the cashier, he offers you an additional 20 percent savings if you sign up for their store credit card. Plus, with the card, you get free alterations. Done.
Read the full article »