Published 8/4/11 (Modified 8/10/11)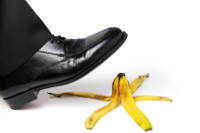 By Beth Orenstein
When was the last time you were in your bank? It was probably when you opened your accounts. Thanks to ATMs, online banking and your smart phone app, who needs a teller? You know the money is there when bills are due.
Because we're all so busy--with work and family and friends--it's easy to pay such little attention to our bank accounts. But you really shouldn't take a cavalier attitude about banking. Doing so could be costing you a lot of money.
Here are four of the most common mistakes when it comes to banking - and how to avoid them so that you're not losing money at a time when every penny counts.
1. Not checking your statements
Checking your accounts daily would be ideal, but since we don't live in a perfect world, the least you can do is check your monthly statements. These days, you probably get them via email--who doesn't want to help save paper and trees--but do you actually open the email and look at the statement?
It's a good idea to make sure all the deposits you made show up. Also, check that the withdrawals you made are for the correct amounts. Were you charged any fees on your savings account or checking account that you shouldn't have been? If you find a mistake, call it to your bank's attention immediately. If there's a mistake, it could be quite costly.
By law (Regulation E), banks are required to pay for any losses greater than $50 caused by Read the full article »