4 ways to stop a wedding invite from breaking the bank
By Peter Andrew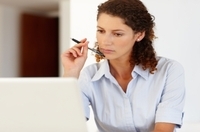 If you're like me, you're going to be a sucker for weddings. No quantity of divorce statistics or doubts about the gene pool from which one of the happy couple was derived is going to stop me loving every second. And I really don't care whether it's an over-flowered church affair followed by a reception at a fancy country club, or a bland, city hall ceremony with a party in the back room of a bar afterwards. It's the whole atmosphere of happiness and well-being that gets me. You'd be amazed how often I get something in my eye, just as someone I care about is saying "I do."
So I'm truly disappointed on those occasions when I have to turn down a wedding invitation. But I sometimes do, just because I can't afford to attend. Every year, American Express publishes a survey about the cost of attending nuptials as a guest, and be prepared to be shocked by the results of the latest edition from April, 2015:
Invitees are planning to spend on average an eye-watering $673 per wedding this year.
That's an increase of 13 percent compared with last year and is up 21 percent on 2013. How much has your salary increased over that period?
Major expenses include airfares ($225), hotel accommodation ($170), eating out ($116) and buying new clothes for the event ($95).
Wedding gifts come in at an average of $106. But that $673 doesn't include pre-nup (if you see what I mean) gifts such as those presented at bridal showers ($77 average), bachelor/bachelorette parties ($86) and engagement parties ($89). For those close to the bride or groom, a modern wedding can be a grand (in two senses of that word) affair. So what can you do to minimize the damage to your high-interest savings accounts?
1. Just say no
I know. Saying "no" is my least favorite option too. But, unless one of the happy couple is a close family member, you may have no choice but to politely decline. That's especially true if it's one of those "destination" weddings that seem to be becoming more popular. According to Amex, 72 percent of Americans reckon that ceremonies in exotic locations are too expensive, and 62 percent resent being forced to take a vacation around a wedding. So you won't be alone if you turn down one of those.
Wherever it's being held, you don't have to be bluntly truthful about why you're declining an invitation. With a little diplomatic inventiveness, you needn't mention money.
But before you do decline, give some thought to your personal budget. Suppose you were to forgo date nights, girls' nights out, coffee-shop visits, newspapers, take-out lunches, card games, or whatever your luxury pleasure is for a few months. Could you then afford to go to the wedding? And would it be worth it?
2. Act soon on gifts
Chances are the bride and groom have registered their gift wishlist at one or more stores. Get online early so you can reserve items within your budget -- before all the cheaper choices go.
Although you can be sure your gift will be appreciated if you give one from a list, you don't have to be tied to it. If you've a skill, use it to create something unique yourself. And it's 2015, so a gift card from a good store is always acceptable.
3. Book travel strategically
Don't immediately leap to book airline tickets. If there are a few of you going, might driving be a better bet? Or Amtrak?
Last December, Forbes described some research from Expedia about the optimum times for booking air travel. Obviously, you don't want to leave it till the last minute, but on domestic routes you shouldn't book too early either. Apparently, between 50 and 100 days prior to departure is likely to the the sweet spot for domestic flights, while the equivalent for international routes is 75-175 days, with 171 days the best. However, those are just statistical averages, and you might be better off monitoring airlines' websites for the best deals. Don't forget to check off-peak flights if you're willing to trade convenience for lower fares.
However you travel, if possible sweat your plastic. Have you got a gas rebate credit card or an airline or hotel one? If so, earn all the rewards you can. Or have you already stored up rewards? In that case, why not redeem them for this trip?
4. Keep up appearances
Although most men like to look good at events, they're rarely under the same pressure to invest time and money in their appearances as women. So it's women who can often achieve the bigger savings.
Instead of paying a professional in a salon, why not do a deal with a fellow guest -- perhaps your girlfriend, sister or mother (providing she's not stuck in 1988) -- to do each other's hair, make-up and nails? And consider revitalizing something already in your wardrobe with eye-catching accessories -- possibly borrowed, if you have a kind friend -- instead of buying a whole new outfit.
Oh, and whatever you do, don't forget to take some tissues to the ceremony.
Peter Andrew has over 25 years of experience writing about marketing, advertising and management. He regularly covers consumer credit card topics for IndexCreditCards.com and other personal finance publications including Fox Business, TheStreet and MSN Money. He also writes frequently about mortgages and auto loans. Peter has spent extended periods living overseas, in the UK, France and Africa. He lives with his partner of 20+ years, and wastes too much of his time on cryptic crosswords.