How long should you keep your tax records?
By Aaron Crowe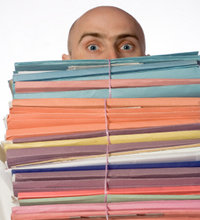 Somewhere deep in every home office, thrown in haphazardly or filed semi-neatly in a file drawer, are years' worth of tax returns and records that support them.
Sooner or later the files get so big that the drawer or cabinet is busting open, creating a paper mess that could be explored on A&E's "Hoarders" TV show. My one file drawer of old tax files probably isn't enough to get my office profiled on the show, but I don't want to take any chances. I'm cleaning it up.
Find the right credit card for you