Credit cards: Are you a shopper or a saver?
By Megg Mueller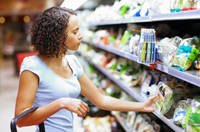 Standing in a long line at my local big-box book store recently, two thoughts went through my head: (a) I must be the only one who doesn't have an e-reader, and (b) there are two kinds of credit card users out there; those who have just one, and those who have multiple credit cards.
You could easily see who was who. The one-card shoppers carefully and slowly handed their cards to the cashiers; multiple-card users did a scan of all the cards in their wallets before choosing then quickly handing it over, as if to say, "Don't give me time to change my mind!" I'm thinking that this dichotomy between shoppers is the reason I've been seeing divergent reports on what's happening with the economy and our personal finance choices in general.
Find the right credit card for you