Published 11/18/10 (Modified 3/17/11)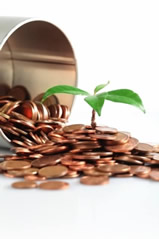 By Peter Andrew
Broker ages

I have an uncle who's a multimillionaire. And he's always talking about the latest call he's received from his broker. When I was a kid, I somehow pictured the person who called him as a thin, elderly gentleman with parchment-thin skin, wearing a morning coat and wing collar, like one of those plutocrats that they used to feature in 1930s Hollywood movies.
But I was wrong. Even when I was a little boy, brokerages employed thrusting young people who were as far away from the top hat stereotype as you could get. And you can get a lot further now. Because today there are two sorts of brokerages: those that provide proactive, personal service and advice to high net worth individuals such as my uncle, and those that offer do-it-yourself online trading environments that are open to everyone.
Discount brokers
Traditional brokers call up clients with hot tips and recommendations that supposedly provide investors with an inside track. But that comes at an eye-watering price, and it's not at all clear that their record of spotting likely winners is as good as they sometimes claim.
Discount brokers often have the same information online that their traditional counterparts offer, but it's up to you to dig it out, and act upon it. The good news is that their fees are a tiny fraction of those changed in the high-end part of the brokerage market. So now the question is:
Read the full article »